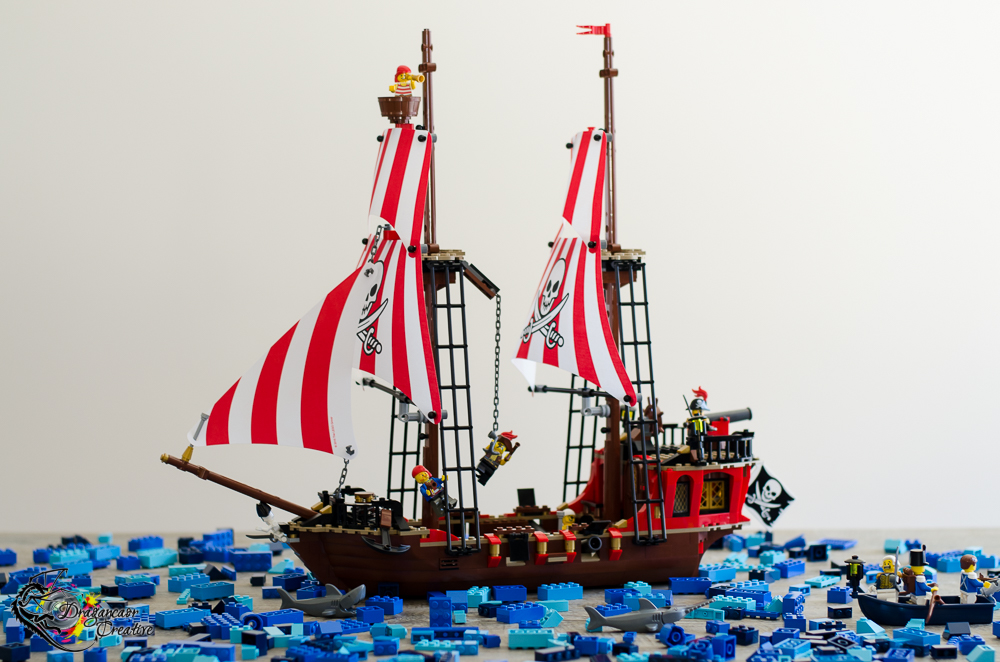 Lego is the abbreviation of two Danish words, "Leg godt," meaning "play well." Certainly can't argue with that when it comes to most well-known product to come out of their factories since they launched the business in 1932.
It's synonymous with childhood. It's a brand, and product, that is known, loved, and respected the world over by children, teenagers, and adults alike.
Since ANZAC Day, the only thing I've really been photographing has been Lego. I stepped back from taking on new bookings since April, and am only just now starting to take on bookings again (yep, I'm back!). I'm still working with most of the challenges I originally set myself, though I've expanded on them slightly. I've worked at night with desk lamps for some shots. Same spot in the room, but using the glass door as a dark backdrop instead of the wall I use for my daytime shots.
My Lego collection has grown massively over the past couple of months. For my birthday in July, many of my friends went out of their way to increase what I had to work with. Those fabulous people gave me heaps of boxes of classic bricks, a number of really neat sets, and some minifig blind bags from season 12, 13, and the Lego Movie. One friend even tracked down all the main Star Wars characters as minifigs, 2nd hand. I now have Vader, R2, Chewwy & Han (to name a couple of them). My wonderful (and exceptionally patient) partner gifted me the current edition of the Pirate Ship… which I've wanted since the first version came out 26 years ago. We built it while my itunes played all of the Alestorm we own on loop (shuffled), because why on earth would you not?!
Larry continues to bring a smile to my face and others.
There's a wonderfully strong and supportive toy photography community on Instagram. I am constantly inspired and impressed by the photos taken by others. Balakov is still my favourite (if you haven't seen Mike Stimson's lego photos, you've been missing out) and over the years he's done nothing but improve on how awesome his imagery is.
I've been amusing myself with some photos, placing silent bets with myself on which account a photo will get more attention on – Facebook or Instagram. For instance, the Shark Repellent photo was liked, commented on, and shared all over Facebook while Instagram users mostly ignored it. A photo of all of my minifigs is still gaining likes weeks later (it's reached over 70) on Instagram while Facebook users mostly ignored it.
I decided that I was putting a heap of these photos into a coffee table book for our lounge room (we just don't have the wall space for this many photos!) and threw out a Facebook status asking who else might want one. 60 pages with one photo per page, in a lovely 8×8" softcover format. Nine books were ordered and I spent weeks counting down the days until their arrival.
I was ecstatic when I received a "come to collect" email, and wasn't prepared to be let down as hard as I was. They'd not been packaged correctly and had been severely damaged in transit. The printers were called and told to reprint them, package them in a manner that would protect them, and send them express. Ten days later, the reprints were missing and we spent 4 hours trying to track them down before finding them with Australia Post. I was dreading their eventual arrival, expecting to be giving up and asking for a refund.
Thankfully, they had been packaged with care this time and had arrived with no scratches, creases or tears. It took a while to sink in. I had my newest book! I've taken great joy in letting everyone who had ordered one know.
Last night I got to hand deliver one, to the wonderful person who has been a wealth of moral support from the get go. The person who entrusted me with thousands of dollars worth of his own Lego. He asked me to sign it, which felt exceptionally strange, but seeing the look on his face as he flicked through the pages and soaked up the images was awesome.
But it was a public event (the Zig Zag Community Arts Bush Dance) and other people saw us with the book and wanted to know more about it. I've had a few people ask for a copy for themselves and for their children, when it was planned to be a once off. "Facebook didn't show me" is a common theme.
Consequently I'm considering putting together another one.
Meanwhile, I'm trying to fulfil requests for my Redbubble portfolio too. "My friend got engaged, could you make me a card for them?"
(Do you know how hard it is to get two minifigs to hold an engagement ring with nothing but balance? Don't breathe. Breathe & they'll drop it.)
I've set up extra categories on there for Romance and Christmas so that people can find them easily.
I'm also in the process of putting together a couple of calendars.
The beauty of Redbubble is I don't need to try to get into my lab to sort out people's prints. Given that the two labs I use in Perth are both over an hour's drive away from me, it's really helpful that Redbubble handle the printing and the shipping on my behalf. So you're not waiting for me to manage to get to the lab, nor trying to tee up a time that I can deliver your pretties. I believe it's roughly a 10 working day turnaround from order to arrival, but that's also product dependent.
Recently we've seen the sale of some notebooks, stickers, a heap of greeting cards, a large metallic-finish photographic print, a tote bag, and a skirt.
Let me just go over that last bit… someone bought one of my images on a SKIRT! How cool is that?! I wish so very much that I knew who it was, and could see how they style it.
So… if it was you… please send me a photo of yourself rocking out & looking like an absolute boss in that gorgeous new skirt of yours!
Actually… Let's start a thing! If you have bought something of mine, show me how much you love it!  Use the hashtag #stuffbydragancaor on Instagram and Twitter (or you can inbox/email me) with a picture of you with it, how you've styled it, or where you're displaying it!